G Suite for Education for Model Islamic Schools in Nigeria
This website is created by Notify Information Centre (NIC). The overall objective of the website is to make the on-boarding process for schools more effective, efficient and stress free.

We have over 500+ Model Islamic Schools with interest in G Suite for Education for Schools. Considering most schools are widely spread across different States in Nigeria, we believe the best approach was to create a mini web portal that will make the journey worthwhile for Schools.

This collaboration was made possible through the support of The Association of Model Islamic Schools (AMIS) Nigeria, The Google Business Group (GBG) FCT - Abuja and Notify Information Centre (NIC).

As we all know, G Suite for Education is FREE

However, there are prerequisites for eligibility (Qualifications for G Suite for Education) and also some little associated overhead expenses that will be incurred by Notify Information Centre (NIC) in order to deliver the service.

These are:

(a) Purchase of domain name with the .sch.ng extension.
Kindly note that domain names are renewed annually.

(b) Purchase and maintenance of dedicated servers housing all the resources.
This is also an annual recurring cost, and;

(c) 24/7 support and other overheads.

After deliberation and due consultation:

(i) We agreed at the calculated cost of N3,000 per term for each interested school.

(ii) The total cost is N9,000 per school annually. Breaking this down per term will be N3,000 multiplied by three (3) school terms.

(iii) The N9,000 annual subscription charge by each school will be PAID ONCE, NOT per term.

We believe this will be valuable and cost-effective resource for schools to connect with their students and teachers at home, in the course of this widespread Corona Virus or COVID-19 pandemic that has currently plagued the planet.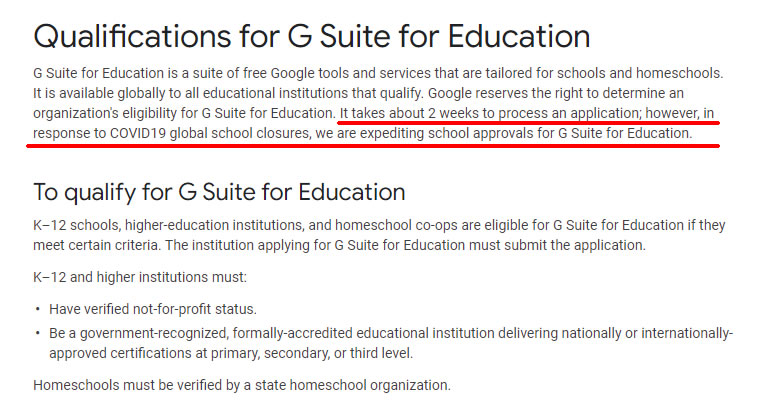 We encourage ALL INTERESTED SCHOOLS to Complete the Subscription Payment on or before Friday 8th May, 2020.
As we all know that we are filing for group approval, so we need to complete our configurations and join the queue with other applying schools from all over the world.

(iv) The low-cost subscription model was built on the premise of accommodating also schools with low income and fees.
This model is concessionary, not profit driven and overall aimed to support a large number of schools under the Association of Model Islamic Schools (AMIS) Nigeria, to on-board the G Suite for Education platform.

(iv) The secure annual payments will be done online via PayStack. This is for efficiency and effective administration.

Moving forward, these are the required actions below:

Step 1 – Click Here to Make Payment Using PayStack

Step 2 – Complete this Google Form using your Payment Reference in Step 1 above

As part of the requirements to qualify for the FREE G Suite for Education, you are required to also Scan & Upload A Copy your School's CAC Document.
Also note that Email Login is required to Complete the Google Form in Step 2.
Step 3 –
Your Account will be Configured and Setup in 3 – 5 Days.You will also be Contacted within this (3 – 5 Days) Period.
If there are
Questions, Comments or Suggestions,
I have made available my contact information below.
Thank you.
Otunla Aderogba
Managing Director, Notify Information Centre (NIC)
Lead, GBG FCT - Abuja
Nigeria
Email Address(es): gbgabuja@gmail.com, ade@notifyic.com
Phone Number(s): +234 08036065257, 08052851874
Notify Information Centre (NIC) Website:
http://www.notifyic.com
GBG Abuja Website:
http://www.gbgabuja.sch.ng
Events Blog:
http://gbgabuja.blogspot.com
Facebook:
https://www.facebook.com/aderogba.otunla
LinkedIn:
www.linkedin.com/in/aderogba-otunla-b1236a13
Community Page:
https://www.facebook.com/gbgabuja
GBG Video:
https://www.youtube.com/watch?v=PNTPVPKMp-w&t=2s